It's about time to do a proper in-depth review of stock broker DEGIRO as many of you have been asking for my opinion.
And as you might know already, DEGIRO is by many known for its low-cost fees. This is evidenced by the 86 European awards it has won over the last several years in which low costs were often an important factor1. Hence, it should come as no surprise that I see DEGIRO as one of the best European brokers online.
But is this all or is there more to it?
I have been using DEGIRO for more than 5 years now. Hence, I believe that I can speak from a lot of experience in using their platform.
That's why I decided to create this in-depth DEGIRO review. There are already enough online comparison tools, but they focus on all kinds of different investors.
This is therefore rather an in-depth DEGIRO review focused on the long-term buy & hold investors.
So what can you expect from me in this article?
Just an honest and personal review of DEGIRO as a stock broker platform for long-term investors. This includes all their positives as well as some areas for improvement.
Having said that, enjoy this article, and feel free to leave your thoughts in the comment section below.
---
Disclaimer: Investing involves risk of loss
If you decide to open an account at DEGIRO, could you click one of the links in the article? Those are affiliate links and if you open an account, I may receive a commission at no additional cost to you. It keeps this blog alive.
---
---
What is important to long-term investors when choosing a broker?
I believe that a typical dividend growth investor with a long time horizon will agree that the following aspects are very important to consider when choosing your stock broker:
Keeping your costs as low as possible to have maximum benefit from the compounding effect
The ability to buy many different blue chip companies in both Europe and the United States
Being sure that your investments are protected in case a stock broker would go bankrupt
No unpleasant and ad-hoc surprises which make you rethink your choice for the stock broker
The user-friendliness of the platform. It should be intuitive and provide you with all the information you need in a hassle-free format (i.e. for tax purposes)
Therefore I will use the above topics as a structure for my DEGIRO review.
But let's start with some basics about DEGIRO first.
---
Some basics about DEGIRO
Availability in Europe
DEGIRO is still relatively new in the market because it was just founded in 2008 in the Netherlands.
However, they have grown fast since then and they are currently available in 18 European countries:
Important: for the moment, DEGIRO decided to stop onboarding new clients for the Hungarian and Norwegian markets.
This makes DEGIRO one of the most available and accessible stock brokers in Europe.
Account types
The most important thing you need to know in the context of this review is that there are two main account types you can choose from when registering at DEGIRO:
Basic: provides you with access to all available products and investment services of DEGIRO except Debit Money, Debit Securities, and Derivatives. If desired you can change a Basic account to an Active or Trader.
Custody: it is different from a Basic profile in that the securities are held separately from the lending pool of DEGIRO clients' securities and are thus unable to be loaned to third parties. Debit Money, Debit Securities, and Derivative trading is not available with a Custody profile and you cannot change to an Active, Trader, or Day Trader account. A Custody Profile has different conditions and fees.
In this article, I will be reviewing the basic account type, because this is what many dividend growth investors that I interact with are using.
Flatex AG – DEGIRO acquisition
In 2020 Flatex AG acquired DEGIRO. It has now become one of the biggest online execution-only brokers in Europe with its own banking license. That's why it will also be regulated by the BaFin (Germany) going forward.
So why am I mentioning this acquisition?
Well, just in case you wondered if it has any negative consequences to account holders. So far, I haven't noticed any fundamental changes since the take-over that have made me reconsider why I'm using DEGIRO.
However, Flatex did announce2 that it will make flatexDEGIRO bank accounts available for all their clients to hold their uninvested money. This was not the case at DEGIRO, because until now it is still using cash funds to store your money3.
In my opinion, this proposed change by Flatex is a good thing.
---
DEGIRO review – Fees
There are 4 types of fees that I pay careful attention to when selecting a broker:
Transaction costs / commissions
Portfolio maintenance fees
Currency exchange costs
Other costs to be aware of
Transaction costs / commissions
The fees you pay as a commission when executing a transaction really differ based on the country you are in and the stock market you invest in.
However, most recently DEGIRO introduced zero commissions on some of the largest stock exchanges.
This doesn't mean that there are no costs at all because they did increase the underlying currency commission to 0.25%.
All I can say is that it feels like a zero-change impact as I'm mainly investing on international stock exchanges as a Polish resident.
Having said that, I find the fees for trading on the US stock market (i.e. SP500) very low. Sometimes I pay only 52 cents for a single transaction when buying for instance a few shares of Johnson & Johnson.
On the other hand, I pay 3.9 Euro and a bit when buying shares in the Netherlands, i.e. Royal Dutch Shell or Unilever.
According to DEGIRO´s website, their fees are up to 80% cheaper than other brokers. Click here to check the full comparison.
I can personally confirm that, because I also own shares at SaxoBank. There I pay a minimum of 8 Euro per transaction, no matter the country I buy shares from.
DEGIRO also offers you a selection of ETFs that you can trade at zero commissions (currency, external products, and spread costs may apply). Check the full available list here: degiro.co.uk/fees/commission-free-etfs
---
---
Does DEGIRO charge a Portfolio Maintenance Fee?
Here is the good news! You don't pay any monthly or annual service fees.
I am very happy with this because SaxoBank automatically deducts a monthly service fee as a percentage from my portfolio.
At my Binck Bank account, this is €3,50 + 0,01% on a monthly basis, because I have a "green" account type over there.
Other costs to be aware of
There are a few costs that have surprised me in the past and there are 2 specific costs of which I would like you to be aware.
1. Annual DEGIRO Exchange Connectivity Fees.
If you buy shares for the first time on a certain stock exchange then you generally need to pay a small fee upfront. This fee is typically 2.50 Euro and it is automatically deducted at the start of a new calendar year.
I trade at 10 different stock exchanges which therefore costs me about 25 Euro on an annual basis.
2. Country transaction taxes
There are some countries in Europe that have implemented a tax on every single transaction you make.
I don't have a total list of countries, but from my experience, this applies at least to the United Kingdom, Hong Kong, and France.
These transaction taxes are coming from the local government and DEGIRO will pass them on to you. This means that you might see additional "transaction costs" when trading stocks in those countries.
In my situation, this was 0.5% of the transacted value when buying UK-listed stocks (i.e. Chesnara Plc). And I paid 0.2% on the transacted value when buying French listed stocks (i..e. Danone)
This is not different than at other brokers where I have an account.
3. Transfer costs when moving shares to another broker
This is not a cost type that many people think about when signing up at a new broker and I have never seen this being discussed in another DEGIRO review.
But there can come a time, for whatever reason, that you might want to transfer your shares to another broker. In that case, you will need to be aware that you will pay 10€ per position + external costs according to the stock exchange of the position to DEGIRO.
This can become quite costly depending on the number of positions you have in your portfolio.
You might think now: OK, then I'll just sell my shares at DEGIRO and buy them back at my new broker.
This might be a good consideration, but it really depends on your tax jurisdiction.
I'm living in Poland and it would trigger a Capital Gains tax event. It means that I would need to pay 19% of tax on all the triggered capital gains when selling my shares.
Hence, I would be much better off with a transfer of shares between my brokers.
Access to foreign markets
Buying and Selling shares
European dividend growth investors typically want broad access to many international stock markets.
This allows us to take benefit of all those little gems out there, whether it's in the Netherlands, Germany, the United States, or somewhere in Asia (i.e. Japan).
The good news here is that DEGIRO provides access to more than 50 exchanges across 30 countries for trading shares4.
In other words, almost all the US dividend aristocrats and European Noble 30 members can be bought via DEGIRO.
Options trading
Some dividend growth investors also like options trading to earn some additional income.
In such cases, the availability of stock markets looks a bit different.
As an example, you will most often not be able to trade options in popular US stocks.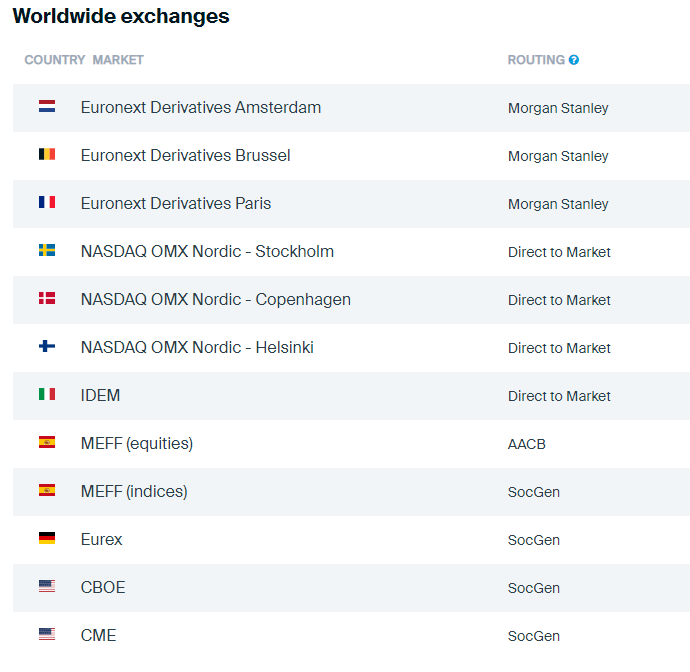 Recommended read: 2 Option Income Strategies – It doesn't need to be difficult
Is your money safe with DEGIRO?
This is quite an important question for any investor. The last thing you want is your broker to go bankrupt and lose all your holdings with it.
So how does it work at DEGIRO? Are your assets and your money safe at DEGIRO?
Have a look at the below answer from DEGIRO on their website:
In my opinion, a lot would need to happen before you would lose all your assets at the segregated entity. But it doesn't mean that it's not entirely impossible at all. In my opinion, this applies to many brokers.
DEGIRO Review – Lending of shares
DEGIRO may lend your shares to short sellers when you have a BASIC account. This is one of the ways DEGIRO can keep its fees low for us as investors.
To be honest, it is quite common practice for stock brokers to do this (not all though!). DEGIRO offers a CUSTODY account in case you don't feel comfortable with this.
It costs a bit more, but it would protect you from any potential risk a short seller is running.
Just to be clear, this applies to individual securities.
Disclosure: I have a BASIC account and I personally feel comfortable with the risk associated to securities lending.
Did DEGIRO surprise me over the years?
Definitely! There are two examples that I vividly remember:
When DEGIRO first offered a core selection of ETFs you can trade without commission (though some costs may apply). Check the full available list here and be aware that terms and conditions do apply.
A certain period of suspension in the ability to buy US REITs.
I personally find that these two surprises even themselves out.
Furthermore, DEGIRO didn't negatively surprise me yet compared to my other Dutch broker Binck NV.
Binck decided a few years ago to introduce a monthly maintenance fee which is now costing me about 150 Euros on an annual basis.
Those are the surprises I really don't like and this has not happened to me over the last 5 years at DEGIRO.
Is DEGIRO a user-friendly platform?
User Friendliness is something very personal. Your own perception of user-friendliness is often defined by past experiences elsewhere.
Nevertheless, I find this an important aspect as part of this DEGIRO review.
And to be straight to the point: I personally find DEGIRO a user-friendly trading platform after 5 years of usage.
Some of the features I find very helpful are the following:
a clear overview of all your portfolio holdings
visibility on the upcoming dividend payments
face ID login
2-factor authentication
real-time quotes
A nice example of the look & feel of the mobile app can be seen below:
Features I would like to see in the future at DEGIRO
I strongly believe that DEGIRO is a very good broker for long-term European Dividend Growth Investors.
However, it doesn't mean that their services and products achieved full perfection already.
There's always room for improvement and the below two topics are high on my wish-list
1. The possibility to DRIP with DEGIRO Basic account
One of my most desired features would be the possibility to automatically reinvest my dividends. Unfortunately, there is no such thing in DEGIRO's basic account.
The costs are generally low for US stocks, so in that case, I could reinvest some shares myself when needed.
Though, the lack of automatic dividend reinvestment possibilities means that I'm rarely doing it. It just costs me time and attention.
For European stocks, it's not even a consideration, because I personally find the transaction fees a bit too high to make it lucrative.
2. The possibility to automatically reclaim foreign Dividend Withholding Tax beyond the US
DEGIRO provides you the possibility to submit your W8-BEN form. Submitting this form will result in an automatic reduction of the US dividend tax from 30% to 15% which is in line with the double taxation treaties.
However, to my knowledge, this is not yet possible for other countries. It's my wish that we might see something like that in the future. And of course, also in a low-cost manner 😉
However, to be clear, I don't expect this to happen anytime soon, if at all. In this case, they are neither different than any other of the low-cost brokers that I am aware of.
NOTE: At this moment in time (July 2022), DEGIRO is not providing any dividend payment vouchers. This is important to know because some European countries expect these to be submitted when reclaiming your dividend withholding tax according to the avoidance of double taxation treaties. Read the following article to learn more about dividend withholding taxes.
Regulatory Supervision
Just in case you were wondering, DEGIRO falls under the German Investor Compensation Scheme. What it means is already best described by DEGIRO themselves on their website: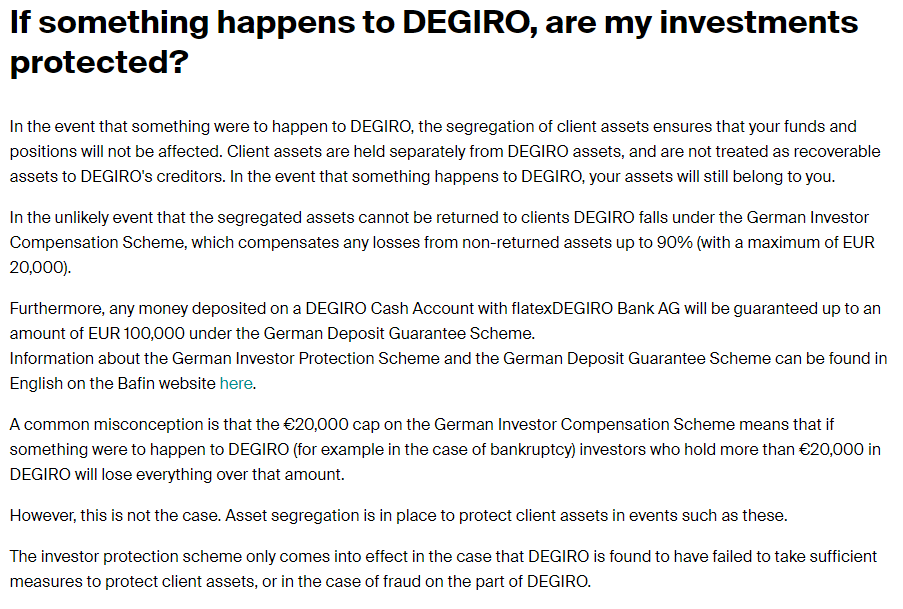 Frequently Asked Questions
Can you buy fractional shares at DEGIRO?
No, DEGIRO doesn't offer the possibility to buy stocks in fractional shares.
What are the DEGIRO fees?
It depends on the country you live in and what account type you have chosen. Go to your local DEGIRO website and the first menu item at the top is "investing". Below it, you should see a menu option called "fees".
Does DEGIRO offer DRIP?
No, DEGIRO doesn't offer DRIP. However, investing fees and related costs are relatively, so it might be attractive for you to still reinvest the dividends manually.
Does DEGIRO issue dividend tax vouchers?
No, currently DEGIRO doesn't issue dividend and tax vouchers. They have indicated that they are working on a solution so that they will be able to issue tax documents in the future.
DEGIRO basic of custody account
Choosing the basic DEGIRO account provides you with lower fees. However, your shares may be lent out to third parties as this is key to their revenue model. If you don't want this to happen: choose a custody account. Unfortunately, this does include additional costs on your dividend payments. This is not something we as dividend investors like to see.
---
My Conclusion about DEGIRO
Best for beginners & access to a core selection of ETFs at low costs
---
I personally find DEGIRO a cheap broker with wide access to foreign markets. Hence, it looks like a good fit for me as a dividend growth investor with a long-term buy & hold approach to investing.
I'm also very happy that brokers like DEGIRO entered the market because it has definitely lowered the costs of investing for us.
There are a few things to consider though as mentioned in this article: transfer costs if you ever would like to move your shares and that there is no option to DRIP your shares with the BASIC account type.
Other than that, I can only share that I have a large percentage of my dividend growth portfolio invested at DEGIRO and I aim to grow this over the next few years.
---
Having said that, I sincerely hope that you enjoyed reading this article. As you might have noticed, I've tried to make it a balanced review about DEGIRO so that you can make your own informed decision.
But if you found this useful and it helped you in making a decision, then don't hesitate to open an account at DEGIRO.
If you are not convinced that DEGIRO is the right choice for you then maybe one of the others is?
3 European stock brokers to choose from depending on your investment style.
---
As always, Yours Truly,
European Dividend Growth Investor
---
Disclosure: This article may contain affiliate links. It doesn't cost you anything, but I may collect a small fee in return. It supports me in keeping this blog up and running.
---
Sources referenced to:
Awards: degiro.co.uk/about-degiro/broker-awards
Flatex announcement: degiro.co.uk/degiro-flatex
Cash Funds: degiro.co.uk/about-degiro/cashfund
Access to Exchanges and Countries for trading shares: degiro.co.uk/products-and-markets
Information about securities lending: https://www.degiro.co.uk/about-degiro/safe-and-reliable