Hi there! This is the 3rd 5-Bullet Sunday already!
This week's 5-Bullet Friday is not about the Democratic Debate, neither about Trump's impeachment and neither about the fact that the European Union wants all phones to have the same charging port.
Interesting news for sure, but not something investing related or worthy of inclusion in this week's list 😉
Enjoy the read!
5-Bullet Sunday is a weekly blog post with 5 topics that were on my mind this week related to Financial Independence and Dividend Growth Investing or something that just fed my curiosity. An overview of other earlier posts can be found here
🌟 "Never waste a good crisis"
Did you read the this article on Bloomberg this week?
Tomomichi Takahashi lost his job during the last financial crisis and did really well and is now worth 360 million. He started a company focused on automating repetitive and pretty dull tasks, something which we now call Robotic Process Automation and it is one of the big hypes in IT. In his case the financial crisis was probably a blessing.
If I compare it to myself: my current work is pretty good and it gives me more than enough opportunities to learn and grow. However, I do have this desire already for years to start my own business, but so far I have always lacked the courage to resign and just take this step.
When reading the article I dreamt of having the excuse of being fired so that I can trigger my survival instinct and start a business…. Who knows! Maybe in 2020?
🌟 Yes I can!! – Health Goals 2020
One of my first subgoals from the health section is already in the pocket!
Late 2019 my blood test results clearly indicated that something needed a change. I had some health problems and my blood results indicated a cholesterol of 200+.
5 weeks of vegan diet later and my cholesterol dropped more than 30% and all results showed green! 💪
I'm very proud of myself, because this required a habit change. Something that I am typically not very good at.
🌟 Earnings season has started
Finally, earnings season has started!
This week was the first week with some proper companies reporting. As an example, $JPM, $WFC, $KMI, $UNH, $BAC and $SLB all reported their earnings.
I kept a special eye on $SLB. Their earnings report didn't really satisfy me and I think that I will just have to stay away from it. I have learnt from owning $GE that financial engineering can keep a company only for a limited amount of time out of trouble, but eventually the time of reckoning will come. I am having the same feeling now about Schlumberger.
I am looking forward for other earnings reports and especially for companies like $ABBV, $AMS:UNA and $ETR:BAY.
In case you are a European Dividend Growth investor: please mark 5 and 6 February in your calendar. These are the days that a majority of the European companies report their earnings 🎉
PS: follow me on Twitter in case you want to be notified via Twitter.
🌟 European Dividend Aristocrats
Did you ever wonder whether it is possible to build a sustainable monthly dividend income portfolio from European Dividend Aristocrats?
Well, look no further! This is what I have been figuring out since the start of this year and as a result I posted this week my example European Dividend Aristocrats portfolio. It's paying out approximately 1000 Euro a month based on a 350.000 Euro investment.
Have a look here if you want to learn what my approach was when designing this portfolio.
Pretty interesting don't you think?
So stay tuned for some upcoming posts in which I will be analyzing some of those companies.
🌟 Top 10 most reliable Dividend Aristocrats on Earth
Have a look at Fredrik Arnold's article on SeekingAlpha. It's very informative and interesting and definitely a recommendation to read. The title of the article is "98 most reliable dividend stocks on earth".
Within this article I found a very interesting table which lists the top 10: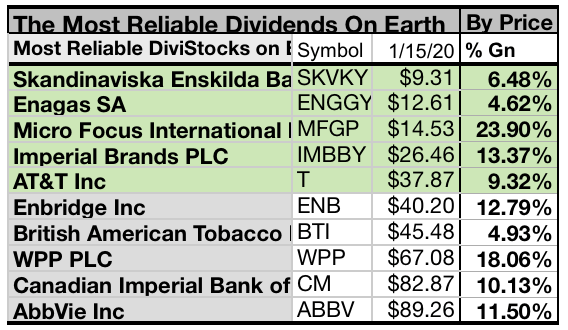 I don't own all of them (actually the opposite), but it's nice to see some European companies listed. Enagas SA is one of them and this company is also listed in the example portfolio of European Dividend Aristocrats.
Another one worth mentioning is $ABBV. Not a European company, but I own a pretty nice position in it. I still have a bit of room to increase it, so maybe still in January?
---
Well, this was it for the week. I hope that you enjoyed this week's 5-Bullet Sunday.
If you liked reading this post then please hit the like button. I would be very grateful 🙏.
Feel also free to ask any question via the comment section or subscribe to this blog if you want to be notified for any upcoming posts.
For now, have a great Sunday!