Time flies when you're having fun! Carnival is already behind us, so let's start fasting! Fasting is something great, because it keeps more money in my pocket which I can then use to accelerate the growth of my dividend portfolio.
It was also a pretty busy week again with lot's of earnings coming in. I'm still digesting some of those and I'm eagerly waiting for some of the Annual Reports. Q4 reports are often limited in information and to do a proper analysis I often require the full GAAP-compliant financial statements. Hence, that will probably be what keeps me busy in March and April.
Having said that, I hope this article serves your interest again.
Enjoy the read with your favorite coffee or tea!
---
Content created this week
Dividend Talk – Ep #36 – 4 Consumer Staples reporting their earnings | what will we do after Danone's dividend cut?
Listen on Spotify | Apple Podcast | Anchor.fm | YouTube (will follow later today)
---
5-Bullet Sunday is a weekly blog post with 5 topics that were on my mind this week related to Financial Independence and Dividend Growth Investing or something that just fed my curiosity. An overview of earlier posts can be found here
---
🌟 Blog Milestone – 100.000 page views
Last Monday I reached a new milestone with this blog: 100.000 page views in total 🙏.
This is quite a milestone for me and I honestly didn't expect that when I registered this domain and started writing articles. I actually started to write so that I force myself to structure my thoughts better. It was one of my learnings after some self-reflection when analyzing my investment mistakes. Having people looking over my shoulders and following my investment decisions should put some additional pressure on me.
It works, because I can say that my portfolio is much better diversified right now and my investment strategy is quite clear to me.
I also experimented with a small blog several years ago and I was already happy if I'd reach 1000 page views in a single year. Hence, reaching 100.000 page views is beyond my imagination.
The 100.000 page views are in itself of course meaningless. However, I treat this as a sign that my content helps you in your investment journey as well. Even if you disagree with my investment philosophy. At least you would know why you are looking differently at increasing your wealth.
Having said that, thank you so much for engaging with me and being a frequent reader of this blog 🙏
Your engagement keeps me going and it motivates me to keep on improving myself.
Basic Blog Statistics
100.000 page views
41.000 visitors
~400 comments
11 months period
🌟 Earnings Season – Consumer Staples in the spotlight
Week 4 of earnings was dominated by blue chip consumer staples reporting their earnings. We discussed most of these again in our latest podcast so definitely check it out on Spotify, Apple Podcast or YouTube.
You can hear us talking about Danone ($EPA:BN), Walmart ($WMT), Ahold Delhaize ($AD), Nestle (SWX:$NESN) and a few quick takes on NN Group, Allianz and British American Tobacco.
I guess the main highlight of the week was the 8% dividend cut from Danone. I really don't understand yet why the Board of Directors proposed such a dividend. It makes utterly no sense to me and a track record of more then 3 decades of increasing dividends is now broken by a meager 8% dividend cut.
As you can hear, I'm still upset about it and it's typically a sign that I should rather do nothing. I always try to stay unemotional towards my investments, but at the same time I'm human too. Hence I will refrain from making any decisions right now until I have been able to do some proper thinking about it. My first thoughts are to hold on to my shares, because I still think that Danone provides a very compelling opportunity to (dividend) investors.
My second highlight was the 2.5% dividend increase from British American Tobacco. I find this company very attractive, although I can't own it due to disagreement with my other half.
Read More: British American Tobacco – Will it help you in building a better tomorrow?
---
So what about the upcoming week then?
I am very much looking forward to hear about the following:
Realty Income – Occupancy and Payment rates
Medtronic – Is there sustainable growth in Covid-19 related diagnostics?
Enagas & Red Electrica – Any signs which could put future dividend growth at risk?
Wolters Kluwer – Does the strong growth story continue?
Bayer – Will it cut the dividend indeed with 25%?
BASF – How heavy was the impact due to Covid-19? Are they committed to their dividend?
🌟 Chart of the week – Inflation coming?
Jeroen Blokland posted the following picture on Twitter 👇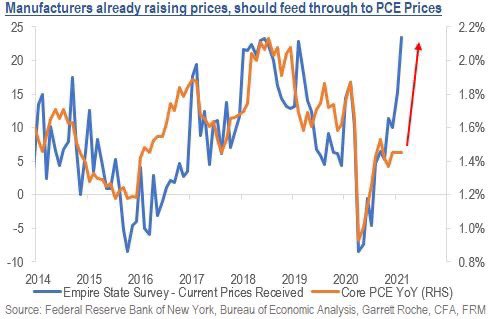 I find it really interesting, because it shows the connection between manufacturing prices and inflation. And inflation is what many investors are afraid of, because it will probably lead to central banks printing less money. And we all know that this will probably lead to suppressed stock prices.
I'm actually looking forward to such a situation. I am just waiting for the moment that stocks like Johnson & Johnson get some sanity back in their stock prices. I feel like substantially increasing my positions in US related Tier-1 stocks this year.
So fingers crossed for some proper inflation later this year 🤞
🌟 Recommended Reads
Dividend Monk wrote an interesting post about the HealthCare sector. He describes its strengths and weaknesses and provides 2 examples of companies which he finds interesting.
Dividend Growth Investor wrote an article about the latest 3 portfolio additions by Berkshire Hathaway. One of those stocks is AbbVie which was also recently purchased by ARK investments. I own a full position in it, so it makes me very curious to hear Buffett and Munger speak about it in their upcoming Annual General Meeting.
Project 2035 is one of our bloggers in the European dividend investment community and he wrote a small article about his latest addition to his portfolio: General Dynamics. What I like most is that he's from the Baltic states, not something we see a lot in our European community.
🌟 Recommended Video
How could I not share the following video today?
Roaring Kitty became a legend as a $GME bull and we all know what happened with that stock. This is also the main reason why he was asked to testify in front of the US congress last week.
His legend keeps on strengthening though, because he testified to congress that he isn't a cat 😂
Jokes aside, his testimony is a very interesting story which touches the center of retail investing and the democratization of the stock market.
---
That's it for the this week! I hope that you enjoyed this week's 5-Bullet Sunday 👍

As always, have a lovely week ahead!
Yours Truly,
European Dividend Growth Investor
---
---