Wow, this was a very busy week. I definitely got too little sleep. First of all I had a very packed agenda at work with lot's of interesting things. Secondly we had all these great dividend stocks reporting their earnings. Thirdly we had a great #DividendDay again and last but not least, I had a great time recording our latest Dividend Talk podcast.
Luckily I already had some time to recover by taking it easy yesterday. This means that I'm recharged again for another upcoming week full of earnings reports and potential dividend hikes. Just have a look at the third bullet to find out which of the companies you're looking forward to.
Also a shoutout to my buddies Engineer my Freedom, Dividend Wave, De Kleine Kapitalist, Richard Whitehead, Dividend Dane, and Phil Segler for attending #DividendDay last Thursday. It was a great evening and I very much enjoyed just talking about dividend stocks 👌 Let's do it again once the first quarter earnings are coming in somewhere in April.
Having said that, enjoy today's 5-Bullet Sunday 👌
---
Content created this week:
---
5-Bullet Sunday is a weekly blog post with 5 topics that were on my mind this week related to Financial Independence and Dividend Growth Investing or something that just fed my curiosity. An overview of earlier posts can be found here
---
🌟 Did Bayer RoundUp the litigation?
They finally did it!
Bayer finally settled their RoundUp cases in the US. Initially the company was able to settle 75% of their cases back in September for an approximate 10.9 Billion USD, but that wasn't enough yet.
But there's good news! Bayer was finally able to settle the remaining potential future RoundUp cases this week for an additional 2 Bullion USD.
Background:
Bayer bought seed maker Monsanto in 2016 which included a lawsuit about their most popular product RoundUp. In 2018 Bayer lost court cases in the United States to plaintiffs who alleged that the use of Roundup caused their cancer.
Shareholders liked this news, as can be evidenced in the share price, because it finally provides clarity on the impact to the balance sheet.
I'm very happy with this as well, because it means that I can finally start looking forward again. I own currently half a position in the stock and I wouldn't mind adding the second half position if I would only know if the board of directors is committed to the dividend.
Bayer Dividend at Risk – My thoughts about the situation
But there's the issue. The board of directors communicated earlier very specifically that their dividend would be at the lower end of the payout range according to their dividend policy. That's why I believe we might see a 25% dividend cut when they report their earnings on 25 February.
As mentioned in the Bayer analysis blog post, I'm keeping my shares as a turnaround play. If the board decides to maintain the dividend then I might consider adding more, because it changes my thesis. Otherwise I'll sell my position once the company returned to a proper multiple and valuation.
🌟 Last week's notable earnings
There were really many earnings last week and I won't be able to reflect on all of them in this post. To keep it to the point, I have decided to select three stocks which I'll highlight in this bullet. 2 out of 3 are members of the Noble 30 index and the third was a recent member. I'm not including Unilever yet, because I'm about to write a separate post on them.
So let's get started.
Novo Nordisk reported good earnings. Sales grew overall with 4% which is really not bad given the Covid-19 situation. As I mentioned in other posts and the podcasts: Covid-19 is having a huge drain on the hospitals which prevents them to treat many non-Covid related patients. Hence, why fewer patients than expected initiated treatments of Novo Nordisk's products.
Net profit grew with 8% to 42 Billion DKK and 10% in diluted earnings per share to 18.01. The difference is explained due to share buybacks.
The company also announced to increase the final dividend with 9% to 5.85 DKK per share which is their 24th consecutive annual dividend increase.
Novo Nordisk Stock Analysis – A Historical Danish Dividend Aristocrat
---
Siemens reported pretty good first quarter fiscal 2021 results (their calendar year ends in September). The company itself is very bullish and they called their numbers outstanding and on top of that they raised their guidance. I'm a bit flabbergasted about that, because they just decided to cut their dividend with 13% a quarter ago.
Having said that, the reason why they are so bullish is because their order intake increased with 15%. This is indeed huge for a company like Siemens. On top of that they increased their sales with 7% and their earnings per share came in at 1.72 which is an increase of 29%. Their free cash flow was also really huge this quarter.
So what was it then that led to these excellent numbers?
This is where the fun part comes and why we are intelligent investors and don't only read the headlines in the news.
Effectively Siemens 29% increase of EPS is for 22% a result of less severance packages going to people whom they had to lay-off. The other 78% is mainly due to two business units: Digital industries (40%) and Siemens Healthineers (30%).
Nevertheless they are very strong numbers, but let's not cheer too much either. The growth hasn't been different than any other industries. The world accelerated digital transformation and it required equipment and coronavirus tests to fight Covid-19.
Siemens real strength is their diversification and that's why they are doing so well. It's a result of past decisions for which I applaud the board of directors a lot. I am therefore also a very happy shareholder and I believe in their future.
But calling these numbers outstanding is a bit too much or me, especially after a whining small dividend cut back in October.
Siemens stock analysis – Dividend Talk Podcast
---
Sanofi reported also good numbers. They grew their comparable sales by 4.2% and their EPS by 9.8%. Like Novo-Nordisk, these are good numbers given all the lock-downs.
One of their strong business drivers was the 14% uptick in influenza vaccines. This comes as no surprise, because many people went or an additional flu shot to avoid a double whammy in case they would contract Covid-19. The same was over here, flu shots were almost immediately sold out back in October.
On the back of these strong numbers the company announced a mediocre 1.6% dividend hike to €3.20.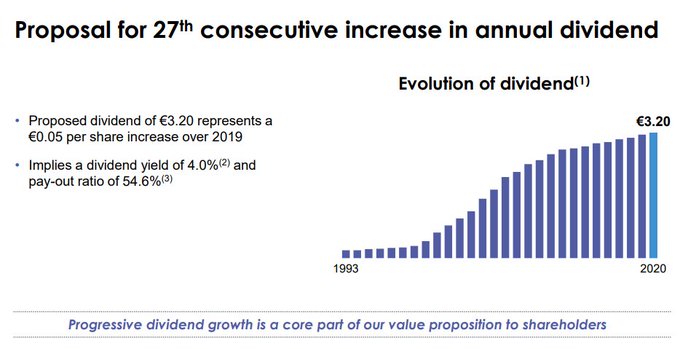 I like the company and you can currently own it at a 4% dividend yield. Definitely not bad!
---
If you're interested in more earnings then I recommend listening to Yesterday's podcast. We discuss there AbbVie, Royal Dutch Shell, Aflac, Unilever, Exxon Mobil, Amazon, Google, Chubb, ABB Ltd and Roche.
🌟 Upcoming earnings
It's not a sprint, it's a marathon! We had some really great earnings and it just doesn't seem to stop. Look at the companies below again. They must have hundreds years of collective dividend growth. Just amazing 💪
And we're still not through it, because next week comes another leg of earnings again with companies like Danone.
Having said that, this week I'll be particularly looking forward to PepsiCo, L'Oreal and RelX. They are all on one day, so maybe I should just take the day off from work? 😉
I own PepsiCo, so I'm really curious to learn how much they sold during the holiday season. I'm interested in RelX (formerly known as Reed Elsevier), because it's a stock which I keep looking into as an addition to my portfolio. It just always seems to be a bit on the expensive side. And the same applies actually to L'Oreal, a true dividend growing powerhouse.
What is the stock that you are looking forward to?
🌟 Chart of the week
No recommended reads this week, because I really wanted to share this chart with you.
I mean, GameStop and Reddit were really dominating the news over the last two weeks. This is why I believe you will have a lot of entertainment by just analyzing this chart.
🌟 Recommended Video
There's just one video which is worth sharing this week and that's the confession of MattMoney on YouTube. I really admire that he stood up and spoke out over his failure in trading naked call options on GameStop.
Keeping our unwanted room mate in check is something that everyone struggles with from time to time. The Fear of Missing Out (FOMO) is real and many of us are subject to this.
This is why I really recommend watching his video with a pen and paper so that you can write down his very useful lessons.
---
That's it for the this week! I hope that you enjoyed this week's 5-Bullet Sunday 🙏

As always, have a lovely week ahead!
Yours Truly,
European Dividend Growth Investor
---
---
---
Disclaimer
I'm not a certified financial planner/advisor nor a certified financial analyst nor an economist nor a CPA nor an accountant nor a lawyer. I'm not a finance professional through formal education. I'm a person who believes and takes pride in a sense of freedom, satisfaction, fulfillment and empowerment that I get from being financially competent and being conscious managing my personal money. The contents on this blog are for informational and entertainment purposes only and does not constitute financial, accounting, or legal advice. I can't promise that the information shared on my blog is appropriate for you or anyone else. By reading this blog, you agree to hold me harmless from any ramifications, financial or otherwise, that occur to you as a result of acting on information provided on this blog.