What a busy week it was! My calendar is really killing me at work. Full days of online meetings didn't allow me to get a lot of work done during normal working hours. I don't know how this is for you, but I tend to work more hours a week since the start of the pandemic than before. I guess this is one of those unforeseen benefits of working from home (pun intended).
But you know, blood flows through the heart and dividends are in my heart. So nothing will keep me away from working with full dedication to grow my dividend income. Not even a dividend cut from Royal Dutch Shell.
So let's keep on humming and therefore without further ado: today's 5-Bullet Friday 👌
#SP500 #Earnings #Dividends #EuropeanCompanies #DifferentIncomeStreams #200yearPlanning #LivingOffGrid
5-Bullet Sunday is a weekly blog post with 5 topics that were on my mind this week related to Financial Independence and Dividend Growth Investing or something that just fed my curiosity. An overview of other earlier posts can be found here
🌟 Not everything is the same
Have a look at the below chart published by Goldman Sachs Investment Research.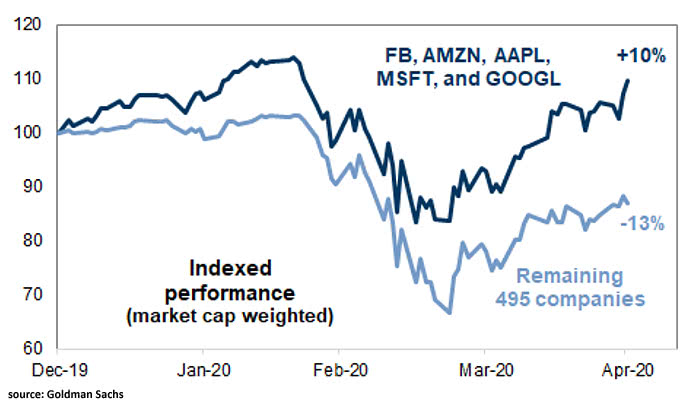 Crazy isn't it? The famous FAAMG are killing it in this market. It just shows how few trillion dollar companies can outperform the rest of the market and at the same time heavily lift up the averages of the indexes.
Don't let yourself be misled by the S&P500 headline numbers, it looks a bit less shiny for most of us that are focused on dividend investing.
🌟 Last week European earnings
Bayer AG reported 1.52 EPS (IFRS) / 2.67 EPS (Bayer's core EPS) . This was an increase of 19.9% (IFRS) compared to last year. Both the Crop Science business and Xarelto where really lifting the profits. These are strong numbers! I just so wish that Bayer would reach a settlement with the authorities or just start winning lawsuits in court. Because until then I won't be increasing my position.
Novartis AG also reported very strong numbers. They made 0.96 USD EPS (IFRS) / 1.56 USD core-EPS. which is a growth of 19%. Their free cash flow grew with 8%. The first quarter was mainly driven by volume growth of 17% from Entresto, Zolgensma, Cosentyx and Promacta/Revolade.
Assa Abloy had a tougher quarter. Their EPS declined by 16% to 1.68 SEK although their sales grew by 3%. You can clearly see that COVID-19 had a strong impact on their numbers so expect even worst results in Q2. The biggest contributor to the decline in their numbers was the China region with a sales decline of 31%. The good news is that their operating cash flow still grew 3% and they already have a cost savings plan in place.
Personally I believe that their dividend is still safe based on these earnings, but I find the share price still very pricy under current circumstances.
KoneCranes reported weak numbers, which should not come as a surprise. They earned 0,14 EUR per share last quarter which was a 15% decline compared to Q1 last year. Their earnings typically fluctuate throughout the seasons, so one of the leading indicators for future earnings is their order book intake which declined with 17%. Their balance sheet looks strong and I believe they should be able to weather the storm. Just expect further weakening of their numbers in Q2.
SwissCom AG reported soso numbers. Earnings per share was 7.63 CHF which was an increase of 2.7%. Let's say that they are doing pretty well given the "pricewar" in their home market. It is important to observe though that it's mainly due to cost cutting programs, because their revenue declined by 4.3%.
Royal Dutch Shell has cut its dividend. I believe most of you are aware of it and you can find my personal considerations on it in yesterday's post.
It's overall very interesting to see that Pharma is showing such strong results in the first quarter of 2020. I just hope that it isn't due to a sudden increase in patients or exuberant price increases, but rather due to having excellent products compared to their competition.
🌟 Upcoming European earnings
The following European dividend paying companies will report their earnings:
Companies highlighted in bold are proud members of the Noble 30 ⚔. We will get quite some clarity on those this week 💪
I am personally very much looking forward for Ahold, Siemens and Munich Re as they are positions in my portfolio.
🌟 Recommended Reads
Derek from EngineermyFreedom wrote an article about diversifying income streams and to reach FI a bit quicker. I liked his article a lot and I can tell you: he works hard! What kind of income streams do you have beside your regular job? Any side-hustles?
5AM Joe wrote a very interesting and insightful article about legacy. He is talking about having a 200 year plan. I do have my 10 year plan and I thought that I am already quite forward looking with that, but thinking about a 200 year plan really blew my mind. It automatically triggers questions about what my goal in life is and how to leave your mark in your surroundings after your death. Well, I haven't figured it out yet, but it was a really cool thought-triggering exercise!
🌟 Recommended Video
This week's recommended video is about a person who shares his story about how he has been living off-grid for the last 50 years. To be honest, it almost sounds like a dream to me. Just look at his windows and how connected he is to nature.
The youthfulness and the passion that he expresses is also very contagious. Just WoW!
I can tell you, I don't need a lot of money for FIRE after seeing this. I wouldn't mind selling our house in a decade from now to start living smaller and become more self-reliant. I'll ask tonight what my other half thinks of it 😉
---
That was it for 5-Bullet Sunday, edition #18 😎
After rain comes sunshine. Let's see what good news we will get this week to give us some sunshine.
Have a good remainder of the Sunday!
Yours Truly,
European Dividend Growth Investor