The stock market is crashing and I probably haven't seen such high volatility yet in my life as an investor. I do remember the Great Recession, but to me this crash feels even more severe from a "speed" point of view.
I believe that there is more stock market decline to come in the upcoming weeks, but like always, I keep on humming along 🚙
Enjoy the read!
#BillGates $MSFT #CoronaVirus #COVID-19 #Dividends #DividendHikes #EuropeanStocks $EBR:GBLB $SWX:BALN $EPA:RUI $LON:SPX #Oil #OilCrisis #Drunk #Panick
5-Bullet Sunday is a weekly blog post with 5 topics that were on my mind this week related to Financial Independence and Dividend Growth Investing or something that just fed my curiosity. An overview of other earlier posts can be found here
🌟 The end of an era?
Microsoft has announced that Bill Gates is stepping down from his position in the board of directors of Microsoft.
Bill Gates wants to further free up his time to focus more on the Bill & Melinda Gates foundation which aims to tackle challenges related to global health, development, education, and climate change.
Microsoft announced that Bill Gates will continue to serve as Technology Advisor to CEO Satya Nadella and other leaders in the company.
Does this mean officially the end of an era for Microsoft?
🌟COVID-19 friendly investments
Schools have closed in Poland, many people are recommended to work from home and the country is about to go further into lockdown. I also went to the supermarket today and all meat, toilet paper and hand sanitizer was sold out.
What does this tell me?
That probably the traditional staples are a safe investment and will do well, also 10 years from now (i.e. Unilever, Clorox, Danone and Procter&Gamble).
Besides that you might want to have a look at companies that deliver core products to enable remote working (i.e. Google (gSuite), Zoom (video conferencing) and Microsoft (office 360)). Companies will need their services now and will be testing those extensively. A part of that might become the new normal. It gives companies a very cost-effective way to employ people by shifting the cost of office space back to the employee.
🌟 European Dividend hikes
While the stock markets are crashing, FY 2019 earnings are still being announced including their dividend proposals. Hereby a snapshot of last week's dividend proposals from some of the European Dividend Aristocrats:
These hikes look pretty good. Keep on smiling 😀
🌟 The Great Oil Crisis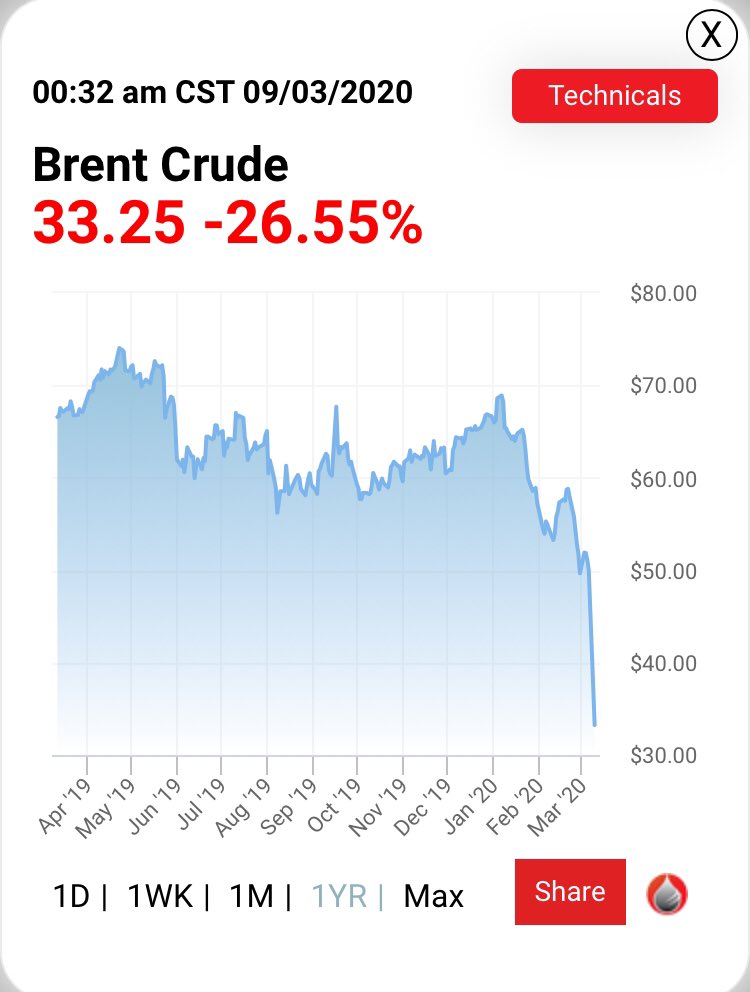 I think it is fair to say that the current oil crash will go into the history books as the Great Oil Crisis. Mainstream media typically considers it a fight between the Saudis and Russia, but in my opinion this has been a declaration of war with the United States and their shale industry.
The self-reliance on oil in the US means that the OPEC lost a lot of power over the last decade. This also makes it harder to form a cartel and to control the oil prices if a very big player is not part of it. I therefore think that this has been an act to wash out a lot of the highly-leveraged companies in the shale-industry in the US.
However, I do believe that the oil price will not stay this low too long and neither that it becomes the new normal. As an example, Saudi Arabia needs $83.60 per barrel to balance out their budget.
If you think like me, then you probably agree that this is one of the best opportunities in the last decade to initiate a position in oil majors like Royal Dutch Shell, Chevron and Exxon Mobil. They are typically well capitalized and have the safest dividends within their industry due to their power in the value chain and their market share.
This is not to say that I am recommending to go full into oil now. My recommendation is to have a well diversified portfolio and for me the energy sector has a place in it.
Note: an oil price this low may result in very low cash flows and therefore generally the risk of a dividend cut has substantially increased. However, this is what investing is about, because the risk/reward has significantly increased. Please invest with caution.
🌟 Drunk or Panicked?
Looking at the news and my Twitter feed would sometimes suggest to me that there is an apocalypse coming 😱. That's why I want to share the below video with you from Dave Ramsey. I just love this one! #CommonSense
---
This was it for the week and I hope that you enjoyed this week's 5-Bullet Sunday.
Stay calm, Invest wisely and keep on humming on our journey to FIRE.
For now, have a great remainder of the Sunday!
Yours Truly,
— European Dividend Growth Investor
---

Are you wondering what stocks I own and how many of them?
Sign-up to my mailing list and receive a link with an overview of my full portfolio!
Processing…
Success! You're on the list.
Whoops! There was an error and we couldn't process your subscription. Please reload the page and try again.